Isabella Capezio (AU)
Blind Call
1 March 2024 - 23 March 2024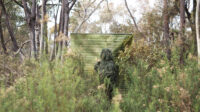 Image: Isabella Capezio, Untitled (still), 2023. Courtesy the artist.
Queerness, camouflage and a camp look at 'bro culture'.
When
1 March 2024 - 23 March 2024
Venue
Level 1, 44 Glasshouse Rd, Collingwood
(Access via the rear of Gertrude Glasshouse)
Thu – Sat, 12pm – 5pm
Price
Free
A "Blind Call" is a hunting term—an "imitation" or "call" used to lure a target into space. Capezio presents work that plays with notions of visibility, invisibility, and queerness through camouflage, investigating visual paradigms of 'nature' and environments of desire.
Employing experimental and camp processes that harness play, parody and exaggeration, Blind Call riffs on hunting, camouflage and bro culture to examine how humans "try to co-opt nature and their inherent failure to capture and dominate the landscape." The resulting work considers new links between queer bodies and the ecologies that surround them.
Blind Call is presented as part of the inaugural Res Artis x PHOTO 2024 Residency collaboration.