Fiona Amundsen (NZ)
Blowing in the wind
1 March 2024 - 24 March 2024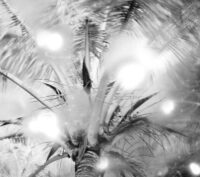 Image: Fiona Amundsen, Palm Tree near Merizo Pier, Guam (2,121 Stomachs), from the series Blowing in the wind, 2023.
The invisible impacts of nuclear winds
When
1 March 2024 - 24 March 2024
Venue
Spring St, East Melbourne
24 hrs
Accessibility
Wheelchair access
Price
Free
Making visible the long-term impacts of nuclear testing, these photographs explore the impact of fifty years of nuclear weapons testing and ongoing militarisation across Moana-Oceania. The project's title alludes to the idea of a 'downwinder'—a person or community exposed to radioactive materials that are released into the environment which, in this case, quite literally float downwind, contaminating bodies, lands, waters, and air.
These photographs were taken in Guåhan (Guam)—which is fighting for compensation regarding exposure to downwind radiation caused by US testing in the Marshall Islands—and Tinian Island—which was the departure point for the planes that carried and dropped the first, and only, nuclear weapons used in combat. They have been processed on location with seawater which contains trace residues of radiation that have effectively fogged the light-sensitive film. In addition, during the film development, chemiluminescence has been added, impacting the image embedded in the film's light-sensitive emulsion. Chemiluminescence is a process used in 'Western Blot' DNA testing. In this context, chemiluminescence damages the film by creating white spots of fogging. This process is akin to how radiation resides in the body's DNA, damaging it over time. While what we see here is not obviously 'nuclear', these images embody contamination by nuclear fallout.
Curated by PHOTO Australia Supported by Creative Victoria and Creative New Zealand