Book launch: Surat by Atong Atem
21 May 2022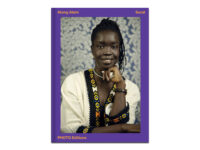 When
21 May 2022
Saturday, 6-6:30pm
(AEST)
Venue
37-47 Thistlethwaite St, South Melbourne
Accessibility
Wheelchair access
Price
Free, no bookings required
Join us for the launch of Surat, the first photobook by South Sudanese / Australian artist Atong Atem and the second in the PHOTO Editions series co-published by Photo Australia and Perimeter Editions.
Atong will be available for book signings. Have a drink and network with other Photobook makers and collectors at the Photobook market.
Commissioned by Photo Australia for PHOTO 2022 International Festival of Photography, Surat (which translates from Sudanese Arabic as 'snapshots') is an homage to family photos and the characters that make up a family. Atem revisited her family photo albums that span decades and continents, and restaged and reimagined scenes and characters. The resulting book is a documentation of a series of performances as self portraits and the act of photographing and being photographed, framing and being framed. It's a performative depiction of photography and the repetition of dressing, sitting, posing, changing, testing, adjusting and capturing.
Surat is a celebration of the visual language of family photographs and photography as an extension of our oral traditions. "We sing songs to tell history and we dress up and sit for photographs to mythologise our histories." This work honours the Dinka tradition of record keeping and archiving as a cultural and intimate practice.
For Atem, the book is also about movement, both geographic and historic. "It's about South Sudan, so-called Australia and everywhere else in between that I've rested my head to dream about my people—or rather the depictions of people I don't know but am connected to through photographs."
Speakers
Atong Atem (SS/AU)

Born 1994, Addis Ababa, Ethiopia
Lives and works Melbourne, Australia

Atong Atem is an Ethiopian born, South Sudanese artist and writer living in Narrm/ Melbourne. Atem's photographic practice explores migrant narratives, postcolonial practices in the African diaspora, and concepts of identity, home, and liminal space.  Her dynamic portraiture references widely, from Malick Sidibe and Seydou Keita to science fiction writer Octavia Butler.  She was awarded the inaugural National Gallery of Victoria and MECCA M-Power scholarship in 2018 and the Brisbane Powerhouse Melt Portrait Prize in 2017.

Elias Redstone (UK)

Elias Redstone is the founder and Artistic Director of PHOTO 2021 International Festival of Photography. With over 15 years experience within the arts sector, Elias has a track record of initiating and delivering innovative cultural programs in collaboration with leading institutions such as Barbican Art Gallery, MoMA and Storefront for Art and Architecture. He was Curator of the Polish Pavilion at the 2010 Venice Biennale and Senior Curator at the Architecture Foundation, London. He has edited publications for Prestel, Sternberg Press and Bedford Press, and served as Contributing Editor for Arena Homme Plus and GQ Style. His book Shooting Space: Architecture in Contemporary Photography is published by Phaidon.