Thandiwe Muriu (KE)
Camo 34
29 April 2022 - 22 May 2022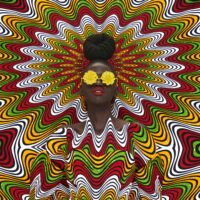 Image: Thandiwe Muriu, Camo 34, 2022. Commissioned by Photo Australia and Metro Tunnel Creative Program for PHOTO 2022 International Festival of Photography. Courtesy the artist and 193 Gallery.
When
29 April 2022 - 22 May 2022
Venue
Scott Alley, Melbourne
24 hrs
Accessibility
Wheelchair access
Price
Free
In her series Camo, photographer Thandiwe Muriu draws on the slick aesthetics of fashion photography, to reinterpret contemporary African portraiture. These bright, playful images immerse her models in colourful textures (sourced from Nairobi's street markets) until they simultaneously disappear into the background and burst from the frame.
Exploring how individuals lose their identities to culture, Muriu's work interrogates contemporary self-image and brings aspects of Kenyan tradition to the fore, from reappropriation of everyday objects to traditional architectural hairstyles. Muriu reclaims the self-love of the African woman, who is often excluded from beauty standards in her own country.
This new work in the Camo series, commissioned for PHOTO 2022, will be displayed on one of the Metro Tunnel construction hoardings and provide a backdrop to the cafes and shops of Scott Alley.
Curated by Photo Australia
Commissioned by Photo Australia in partnership with Metro Tunnel Creative Program