Zoë Croggon (AU)
Chamber Dance
29 February 2024 - 28 February 2025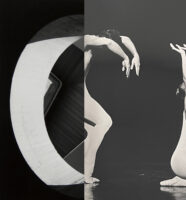 Image: Zoë Croggon, Chamber Dance (detail).
Photographic collages about the body, architecture, and transformation.
When
29 February 2024 - 28 February 2025
Venue
Between Hamer Hall and the Arts Centre Melbourne, St Kilda Rd, Melbourne
24 hrs
Accessibility
Wheelchair access
Price
Free
Artist Zoë Croggon uses archive imagery to respond to the architectural metamorphosis taking place as part of the Melbourne Arts Precinct Transformation Project.
Croggon has a background in dance, and the body has long been the focus of her work. She presents the trained body and modern architecture as fascinating counterparts, each unyielding, severe, and rigorously functional in form.
For this project, she has been invited to comb through the expansive collections of archive imagery at Arts Centre Melbourne to create an architectural and historical synthesis responding to this significant shift in Melbourne's cultural fabric.
Presented by Fed Square