Untitled Film Still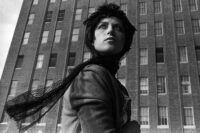 When
29 April 2022 - 22 May 2022
Venue
Flinders St Entrance, Melbourne
24 hrs
Theme
Accessibility
Wheelchair access
Price
Free
"I'm trying to make other people recognise something of themselves rather than me."
One of the most influential artists of the modern era, Cindy Sherman experiments with identity and performance, playing with visual references and codes drawn from popular culture.
Untitled Film Stills—her most celebrated series—is a suite of black-and-white photographs made between 1977 and 1980 in which the artist poses as various generic female film characters, from ingénue to seductress, secretary to lonely housewife. By photographing herself in these roles, Sherman inserts herself into a dialogue about stereotypical portrayals of women.
Untitled Film Still is the largest single work at PHOTO 2022, installed across the entire Flinders Street facade of the Atrium at Fed Square, overlooking Hosier Lane. This iconic image is integrated into the urban landscape, introducing Sherman's work to a new generation.
Curated by Photo Australia
Presented in partnership with Fed Square
Supported by the Naomi Milgrom Foundation
Supported by Peak Digital Southern Impact