Construction and Destruction
26 April 2022 - 20 May 2022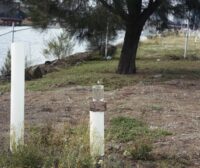 Image: COLLIDER, Construction and destruction (detail), 2021. Courtesy the artists.
When
26 April 2022 - 20 May 2022
Venue
Basement, 344 Swanston St, Melbourne
Tue – Fri, 11am – 5pm
Accessibility
Wheelchair access
Construction and Destruction is a new project by Naarm-based collective COLLIDER, which explores the impact of human inhabitation.
In 1879, John Coode recommended a series of alterations to the Maribyrnong and Birrarung rivers. The Maribyrnong was deconstructed and re-routed to prevent the frequent and necessary flooding of the area. Once a vast wetland, the area is now host to concrete factories, oil storage facilities and a sugar processing port. The activity of industry silences the echoes of a once thriving natural ecosystem.
In an attempt to question their own settler histories, COLLIDER began to retrace the First Ecologies of the Maribyrnong and Birrarung river systems. In doing so, they found enormous acts of violence committed against the First Ecologies of these systems hiding in plain sight; expertly forgotten. Like so many aspects of colonisation, the everlasting and irreversible effects on these systems are disturbingly quiet and largely unquestioned.