Sammaneh Pourshafighi (IR/AU)
Create Your Own Alter Ego
27 January 2024 - 24 March 2024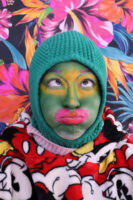 Image: Sammaneh Pourshafighi
Local students celebrate the power of imagination and world building.
When
27 January 2024 - 24 March 2024
Accessibility
Wheelchair access
Price
Free
Explore an outdoor installation of alter-ego portraits created by students from Green Tree Acting Studio with Persian artist Sammaneh Pourshafighi.
With a background in photography, collage and performance, Pourshafighi guided participants over a series of participatory hands-on workshops experimenting and developing their own alter ego. Using a selection of props, art materials, make up, and wigs, participants were encouraged to express their larger than life alter egos culminating in the collaborative production of their own photographic portraits.
This playful series of large-scale photos celebrates the power of imagination and world building available to us all.
Commissioned by Midsumma and PHOTO Australia Supported by Creative Victoria through the Victorian Government's Go West Fund