Curating Photographs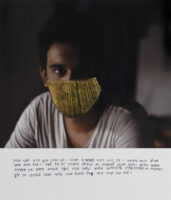 When
16 May 2022
Monday, 10-11am
(AEST)
In this one hour talk attendees will hear from leading curators, who will discuss their experience and methodology of working on diverse exhibition outcomes as part of PHOTO 2022, International Festival of Photography. Aimed at Secondary School and Tertiary students, the speakers will answer questions on how to start working as a curator.
Speakers include independent curator Shivanjani Lal, curator of A Bell Rings Across the Valley, a group exhibition of five artists from across South Asia and its Diaspora, on at Footscray Comunity Arts. Pippa Milne, Senior Curator at Monash Gallery of Art, on curating a solo presentation Speak the wind by Hoda Afshar. Cathy Pryor, Curator at The Jewish Museum, on curating HELMUT NEWTON: In Focus, an exhibition of an iconic international photographer, now deceased, and working with a major international collection. Brendan McCleary, PHOTO 2022 Associate Curator speaking about the PHOTO 2022 outdoor exhibition program.
You can watch a recording of the talk on our Channel here.
Speakers
Shivanjani Lal (AU / FIJI)

Shivanjani Lal is a Fijian-Australian artist and curator. Her work explores personal grief to account for ancestral loss. Exploring narratives of indenture and migratory histories from the Indian and Pacific oceans, works uses story-telling, objects and video to account for lost histories and cede futures for healing. She is the recipient of the 2019 Create New South Wales Visual Arts Emerging Fellowship, was a 2020 Studio artist at Parramatta Artists Studios and the 2020 Georges Mora Fellow. Lal's work has been shown and curated work in Australia, New Zealand, India, United Kingdom, Barbados and France.

Pippa Milne (NZ)

Pippa Milne is a writer and curator based in Melbourne. She is the Senior Curator at Monash Gallery of Art, Melbourne and has been working with photography since 2011. She was previously Curator at the Centre for Contemporary Photography, Melbourne and Associate Curator of International Art at Queensland Art Gallery / Gallery of Modern Art, Brisbane. Recent exhibitions Pippa has curated include Bill Henson: The light fades but the gods remain (2019), Architecture Makes Us: Cinematic Visions of Sonia Leber and David Chesworth (2018) (co-curated with Naomi Cass and Made Spencer Castle) and An unorthodox flow of images (co-curated with Naomi Cass) (2017). Pippa is a regular contributor to publications and institutions in Australia and New Zealand and has been a nominator for various prizes including ICP Infinity Award and Prix Pictet.

Cathy Pryor (AUS)

Cathy Pryor is a curator and producer who has co-curated Helmut Newton: In Focus (29 April 2022-29 January 2023) at the Jewish Museum of Australia: Gandel Centre of Judaica. The exhibition is a partnership between the Jewish Museum of Australia in Melbourne and the Helmut Newton Foundation in Berlin, exploring the life and career of one of the most influential fashion photographers of the 20th Century. Prior to joining the Jewish Museum of Australia, Cathy was the recipient of the 2021 Frank Van Straten Fellowship at the Arts Centre Melbourne, researching the stories of women and magic performance in the archives of the Australian Performing Arts Collection. She also previously worked at ABC Radio National, producing a range of radio programs, including audio documentaries for The History Listen.