26 April 2022 - 20 May 2022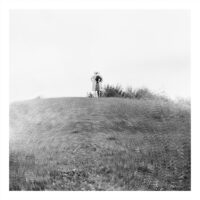 Image: Lesley Turnbull, Untitled #1, 2020. Courtesy the artist.
When
26 April 2022 - 20 May 2022
Venue
Basement, 344 Swanston St, Melbourne
Tue – Fri, 11am – 5pm
Accessibility
Wheelchair access
Price
Free
Dark Room Encounters feature the work of Alice Duncan, Lesley Turnbull, and Ciaran Begley. Spanning photography, moving image and sculpture, this exhibition draws upon land and time to explore the intersections between ecology, identity politics and place.
Dark Room Encounters is a group exhibition of artists exploring relationships to self, place and site through light-based practices, image-making, and sculpture. In light of ongoing local and global events, the works transform the gallery space into a site of refraction and reflection – asking the viewer to reconsider how they interact within the world around them.
The three artists in Darkroom Encounters are brought together from seemingly disparate, yet pertinent, practices. Images of [re]constructed past selves sit alongside images of proposed futures, as well as light-based projections that refresh themselves in the present. These works are interwoven with three-dimensional sculptural objects feature on the floor of the gallery – are these guides or obstacles?
This exhibition attempts to underscore the nuanced complexities of collectively living on colonised land. Combining digital and analogue imaging techniques, Darkroom Encounters invites audiences through multi-layered encounters with artworks that purpose a place where embodied views intersect- and new perspectives emerge.