Developing Influences: Photography and Power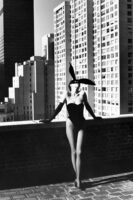 When
18 May 2022
Wednesday, 5:30-6:30pm
(AEST)
Regions
Venue
176 Little Lonsdale Street
Melbourne, VIC, 3000
Australia
Price
You have the option to pay what you can for this for this event. As a guide, the suggested price is $15, although any amount will help cover our costs and keep these events accessible.
Helmut Newton is one of the most influential fashion photographers of all time, but the sexual objectification of his subjects has long been criticised. Join a panel of contemporary photographers as they contemplate the divisive eye behind the lens, and discuss how they engage with inspiring – and challenging – influences from the past.
In association with the Jewish Museum of Australia's landmark new retrospective Helmut Newton: In Focus, photographers Atong Atem, Shannon May Powell and James J. Robinson explore the history of photography as both an art form and a trade, the balance between capturing aesthetic beauty and objectification, and discuss how photography can be used as a tool for empowerment. In conversation with host Tai Snaith, they share their varied professional and artistic experiences and offer a contemporary lens on the power and politics of photography.
Speakers
Atong Atem (SS/AU)

Born 1994, Addis Ababa, Ethiopia
Lives and works Melbourne, Australia

Atong Atem is an Ethiopian born, South Sudanese artist and writer living in Narrm/ Melbourne. Atem's photographic practice explores migrant narratives, postcolonial practices in the African diaspora, and concepts of identity, home, and liminal space.  Her dynamic portraiture references widely, from Malick Sidibe and Seydou Keita to science fiction writer Octavia Butler.  She was awarded the inaugural National Gallery of Victoria and MECCA M-Power scholarship in 2018 and the Brisbane Powerhouse Melt Portrait Prize in 2017.

Shannon May Powell (AU)

Born 1989, Brisbane, Australia
Lives and works Melbourne, Australia

Shannon May Powell is a writer and visual artist based on Wurundjeri Woi Wurrung land in Melbourne. Their work explores gender, sexuality and impermanence with analogue photography, text, video, and movement. They have exhibited at Berlin Feminist Film Festival, New York Art Book Fair, Melbourne Art Fair, Centre for Contemporary Photography, BLINDSIDE, Seventh gallery, MPavillion, Collingwood Arts Precinct, as well as local and international publications such as Vogue, i-D, Vice and Archer Magazines. Since 2018 Shannon has been an annual artist in residence at the VARDA Artist Residency in California where they spent time researching much of their recent work.

James J. Robinson (AU/PH)

Born 1995, Melbourne, Australia
Lives and works Los Angeles, U.S.

James J. Robinson is a Filipino/Australian artist based in Los Angeles. With a background in cinema and film criticism, his work pays particular attention to character, narrative and lighting. His work focusses on the power of representation, using visibility to break down systems of oppression. This style of poetic realism derives from his desire to deconstruct and heal oppressive systems within the industry, casting everyone from his family to academics and scientists he admires. His work covers photography, filmmaking, writing and lighting design, having worked with and been published by The New York Times, Vogue Australia and The Guardian.

Tai Snaith (AU)

Tai Snaith is artist, author and broadcaster living and working on unceded Wurundjeri land. Her multi-disciplinary work celebrates the intersection of stories, collections, people and place. She is interested in how objects like books, vessels and other utilitarian items can be powerful tools to illustrate the times we live in as well as the past. How like literature, objects can convey a deep emotional point of view. Tai has artwork held in both private and public collections including Artbank, City of Banyule, NGA and State Library of Victoria as well as recently commissioned series for Andaz Prague. Tai has a podcast of conversations called 'A World of One's Own' originally commissioned by ACCA, which is now in it's third season.