Memo Akten (TR)
Distributed Consciousness
16 July 2024 - 31 August 2024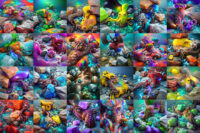 Image: Memo Akten, Distributed Consciousness, 2021. Courtesy the artist.
A surreal, AI-generated mediation on consciousness and intelligence.
When
16 July 2024 - 31 August 2024
Venue
Federation Square, Melbourne
Daily, 10am – 5pm
Accessibility
Wheelchair access
Price
Free
This dazzling multi-screen work embraces the interconnectivity of everything, exploring the merging of human and non-human consciousness – via the coded AI musings of octopus-like digital beings.
Originating as an NFT collection on the ecologically-friendly blockchain Tezos, Distributed Consciousness features 256 unique images of octopus-like Tentacular Critters created with custom Artificial Intelligence/Machine Learning coded by the artist.
Staged as a place of worship, our Tentacular deities invite us to face the reality that humans may not be the sole keepers of what we think of as "intelligence", "creativity" or even "consciousness".
Curated by Chelsey O'Brien Supported by Naomi Milgrom AC and the Naomi Milgrom Foundation