Do Brumbies Dream In Red?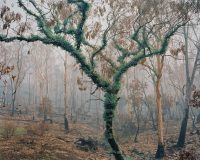 When
5 February 2021 - 27 February 2021
Venue
2 Wreckyn St, North Melbourne
12pm - 6pm
Accessibility
Wheelchair access
Wheelchair accessible by request. Disabled toilets available.
Presented as an immersive experience, this collaborative project utilises large-scale projection and soundscape to place the audience within the Snowy Mountains and Victorian Alpine regions during the period of 2019 – 2020 referred to as the Black Summer.
This project challenges the human perception of this catastrophic event, revealing the bushfires and resulting damage through the eyes of another human-assisted ecological disaster, one of an invasive species; the Snowy Mountain brumby.
The exhibition and publication are the outcomes of Tom Goldner's Master of Arts Photography program at Photography Studies College.
Photography & Curation – Tom Goldner
Moving Image – Angus Scott
Sound – Sean Kenihan
Poetry – Dr Judith Crispin (publication)
Colourist – CJ Dobson (moving image)