Dynamic Drills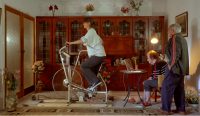 When
5 February 2021 - 27 February 2021
Venue
2 Wreckyn St, North Melbourne
12pm - 6pm
Accessibility
Wheelchair accessible by request. Disabled toilets available.
Please be advised, this gallery event includes some loud volume and is held in a darkened space.
Bench and floor seating provided for viewing work.
Over the course of a 30-minute multi-channel montage, Emmaline and her grandmother, Mila, interact via a series of haphazard home-made contraptions and gestural exchanges that draw from Mila's history as a factory worker across multiple industries throughout her life. Dynamic Drills searches for parallels between aesthetics of manufacturing and the mechanics of memory, proposing family legacy as a form of collective, repetitive production. This exhibition is the outcome of Emmaline's Master of Arts Photography program at Photography Studies College.