Editing Life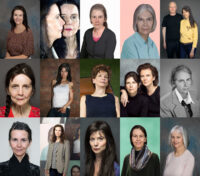 When
29 April 2022 - 22 May 2022
Venue
Fed Square
Flinders St, Melbourne
Mon – Fri, 12pm – 5pm
Sat – Sun, 10am – 5pm
Theme
Accessibility
Wheelchair access
Price
Free
Inspired by documentaries, reality television and the performative nature of identity, British artist Gillian Wearing describes her approach to photography and video art as 'editing life'.
This exhibition focuses on how Wearing turns the lens on herself to contemplate self-representation and the nature of ageing in the contemporary world. After asking collaborators to imagine how she might look at 70, Wearing used artificial intelligence and age-processing tools to depict her possible future selves. Printed on wallpaper wrapping the gallery, these huge self-portraits highlight the unpredictability of time, revealing the limitations of what we believe to be pioneering technology and further emphasising the uncertainty of what lies ahead.
On-screen we meet a series of strangers who appear to look like the artist. Collaborating with Wieden+Kennedy, Wearing created a deepfake by mapping an AI digital mask of her face onto others. Using this technology, Wearing asks us to question contemporary media culture and how reality can be distorted.
Curator
Bethan Johnson (AU)

Bethan Johnson is a Curator at ACMI, based in based in Melbourne.

She co-curated Changing Face of Victoria during her time as Exhibition Curator at State Library of Victoria. Her work focuses on reimagining historic collections through a contemporary lens.

As Lead Programmer at British Film Institute, she established New Forms; a programme which embraces advantages in technology to redefine film.

Previously Friday Late Curator at the Victoria and Albert Museum, Bethan devised a new strategic ambition for the programme and delivered a series of high profile events, engaging 5000+ visitors every month. Themes included; online privacy, videogames and currency, as well as collaborations with English National Ballet, Boiler Room and gal-dem.

Working across disciplines, Bethan's experimental approach to commissioning has seen her search for Lincolnshire's most normal resident alongside the BBC, programme screenings aboard the Floating Cinema and harvest honey to question political issues surrounding urban ecology.