1 March 2024 - 4 May 2024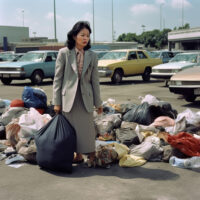 Image: Sara Oscar, A hyperrealistic photograph of a pregnant Thai woman, tall woman in suit, falling luggage, chaos, airport parking lot, theatrical gestures, falling - - scale 1:1, quality 1, 2023. AI generated image. Courtesy the artist.
How are new technologies shaping photography's future?
When
1 March 2024 - 4 May 2024
Venue
344 Swanston St, Melbourne
Tue – Fri, 11am – 5pm
Sat, 12.30pm – 5pm
Accessibility
Wheelchair access
Price
Free
Photography is constantly dying and being reborn. AI represents the latest stage of photography's transformation into a software output, cannibalising the camera and even transforming it into a set of executable text prompts.
If we now think of photography as a kind of 'program', and that images are operational, actionable and scrapable, what does this mean for the future of the medium? execute_photography is both an exploration and a provocation, featuring work by Australian and international artists speculating on the social and political ramifications of photography's afterlives.
Curated by Alison Bennett, Shane Hulbert, Daniel Palmer, Katrina Sluis Produced by RMIT Culture
Curators
Alison Bennett

Dr Alison Bennett is an artist working in the field of expanded photography through a neurodiverse queertech lens. They are a senior lecturer in photography at RMIT University in Melbourne, where they are the Associate Dean, Photography, in the School of Art and co-director of the Imaging Futures Lab.

Shane Hulbert

Shane Hulbert is an artist and associate professor in the School of Art at RMIT University, where he lectures in imaging technologies. His photographic work has been shown nationally and internationally, most recently at the Pingyao International Photography Festival in China.

Daniel Palmer

Daniel Palmer is a professor in the School of Art at RMIT University. His books include Installation View: Photography Exhibitions in Australia 1848–2020 (Perimeter Editions 2021, written with Martyn Jolly, and Photography and Collaboration: From Conceptual Art to Crowdsourcing (Bloomsbury 2017).

Katrina Sluis

Katrina Sluis is a curator and associate professor in the School of Art and Design at The Australian National University. With Andrew Dewdney she is the co-editor of The Networked Image in Post-Digital Culture (Routledge 2022).