Special Event: Eye to Mouth 1975-2021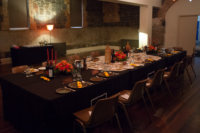 When
20 February 2021
Saturday, 6:30-9pm
(AEST)
Venue
45 Moreland St, Footscray
Tue – Fri, 9.30am – 5pm
Sat – Sun, 10am – 4pm
Accessibility
Wheelchair access
Eye to Mouth is an immersive dinner experience and artistic installation by Rasha Tayeh. Throughout the evening, guests will be invited to explore the cultural, social and political dimensions of contemporary and historical feminism, inspired by the United Nations gesture to name 1975 International Women's Year. A culinary journey through time and space, this multi-art infused, interactive dinner will inspire constructive dialogue on contemporary intersectional feminism.
Drawing on the Exhibition Eye to Eye by Julie Millowick OAM and Jody Haines, the dinners will focus on deconstructing mainstream disillusionment with feminism through food, art and conversation – because furthering the public appetite for women's rights benefits us all.
Book your place, and bring your appetite for food, art, conversation and feminism.
Cost: $75
Booking required