28 February 2024 - 23 March 2024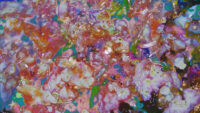 Image: Emily Simek, Remix (video still), 2023.
Transforming how we order the past to see the future anew.
When
28 February 2024 - 23 March 2024
Venue
Room 14, Level 7, 37 Swanston St, Melbourne
Wed – Sat, 12 – 6pm
Accessibility
Wheelchair access
Price
Free
Future Anterior features the work of lens-based artists who subvert the use of archival technologies as tools of control. Taking its name from the future perfect tense — the "will have been"— Future Anterior explores new methods of record creation which reject the inert chronicling of places and events.
Looking to deconstruct the oppressive logic of surveillance, classification, and preservation embodied by traditional archiving techniques, artists mobilise the material conditions, associations, and histories both indexed and concealed by the image frame. Experimenting with different modes of documentation, Future Anterior offers a flexible basis for collective memory; inviting a space for speculation by thinking through the document as a renewable resource for elaboration and play.
Curated by Mia Palmer-Verevis, Emeline Robinson-Shaw and Madeleine Sherburn
Curators
Mia Palmer-Verevis

Mia Palmer-Verevis is an emerging curator, writer and arts worker with experience working with early-career artists and organisations across the non-profit sector. She is currently completing a Master of Art Curatorship at the University of Melbourne and holds a Bachelor of Arts (Art History). Dedicated to contributing to Melbourne's contemporary art community, Mia has curated exhibitions at George Paton Gallery and Linden New Art, and holds a position as Media Coordinator on the Board of Directors at Blindside ARI.

Emeline Robinson-Shaw

Emeline Robinson-Shaw is an emerging curator, arts worker and researcher from Aoteroa living in Naarm. She is currently completing a Master of Arts (by research) in Art History at Monash University, and is on the Blindside Board of Directors. Her research is on labour, social practice, and contemporary aesthetics. She also paints, mostly cows.

Madeleine Sherburn

Madeleine Sherburn is an artist, emerging curator and arts worker in Naarm (Melbourne), whose creative practice focuses on the relationship between the spectator, space and place, through photography, video, installation and text as the acting medium. Sherburn is currently the Ballarat International Foto Biennale's Assistant Curator and is both on the board as Sponsorships and Partnerships Coordinator and the Gallery Assistant for BLINDSIDE Artist Run Space. They have also been involved with Speculative Horizons, an international collaboration between Kuwait and Australia through contemporary photography. They have previous experience in gallery management, content creation & coordination, marketing, and public projects.