Scotty So (HK/AU)
Hai Kot Tou
23 February 2024 - 5 May 2024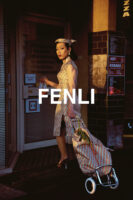 Image: Scotty So, Fenli, 2021. Courtesy MARS Gallery and the artist.
Embracing the high and low of camp.
When
23 February 2024 - 5 May 2024
Venue
40 Lydiard St North, Ballarat
Daily, 10am - 5pm
Accessibility
Wheelchair access
Price
Free
Driven by the thrill of camp, So's work explores the often-contradictory relationship between humour and sincerity within lived experience, offering a glimpse of a future society that embraces difference.
At the heart of So's show is a new video work, in which So pays tribute to the Begonia Queens, a fixture of Ballarat's Begonia Festival from 1953 to 1993. And in the Australian premiere of his Hai Kot Tou series, So is photographed posing in counterfeit high-fashion brands, echoing the head-to-toe monogram trend of the new money in Asia.
Curated by Julie McLaren