Headdress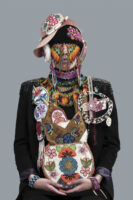 When
29 April 2022 - 22 May 2022
Venue
35 Johnston St, Collingwood
Mon – Wed, 7.30am – 6pm
Thu – Sun, 7.30am – 11pm
Theme
Accessibility
Wheelchair access
Price
Free
Canadian First Nations artist Dana Claxton's practice investigates indigenous beauty, the body, the socio-political and the spiritual. Presented exclusively for PHOTO 2022, her series Headdress extolls indigenous cultural abundance.
In these images, presented as three-metre-high prints in the courtyard of Collingwood Yards, four First Nations womxn display their very different collections of traditional beadwork, spanning generations, tribes and fashions. From traditional designs specific to the Vuntut Gwich'in First Nation, to a duo wearing the same inter-tribal collection made by beaders from the four directions, to hip-hop inspired pieces, these beadworks cover and espouse the womxn's silhouettes, becoming more than just objects: they are cultural belongings, and the womxn are cultural carriers.
Claxton is a member of the Wood Mountain Lakota First Nations, located in south-west Saskatchewan.
Curated by Photo Australia
Presented in partnership with Scotiabank CONTACT Photography Festival, Toronto
Supported by the Consulate General of Canada, Sydney