HELMUT NEWTON: In Focus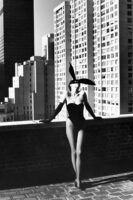 When
29 April 2022 - 29 January 2023
Venue
26 Alma Rd, St Kilda
Tue – Fri, 10am – 5pm
Sun, 10am – 5pm
Theme
Accessibility
Wheelchair access
By appointment
Price
Adult $20 / Concession $15 / Family $40
Jewish Museum of Australia: Gandel Centre of Judaica, in partnership with the Helmut Newton Foundation, presents HELMUT NEWTON: In Focus, a survey of the life and work of legendary fashion photographer Helmut Newton.
HELMUT NEWTON: In Focus delves into Newton's early life, shining a light on his Jewish roots and youth in Berlin, his flight from Germany at the outbreak of WWII, and his internment at Tatura in regional Victoria as an enemy alien. It explores his post-war life and work in Melbourne and shares details of his relationship with his Australian-born wife, the acclaimed actress, artist and photographer June Newton, who worked under the pseudonym Alice Springs.
Showcasing an expansive collection of Newton's most recognisable works, HELMUT NEWTON: In Focus presents an electrifying look at the daring and often controversial images that established his reputation as one of the most sought-after photographers of the twentieth century.