HYPERFOCAL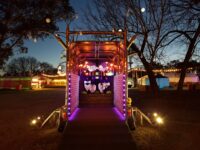 When
19 May 2022 - 21 May 2022
Thursday - Thursday, 5-7pm
(AEST)
Price
Free, no bookings required
Join us at Prahran Square for free music, free food and art for the whole family to accompany the PHOTO 2022 exhibition, Look at me like you love me by Jess T. Dugan, which is showing in the space until Sunday 22 May.
On Thursday 19 and Friday 20 May from 6-8pm, head to Prahran Square for the musical stylings of Orlando Combo. This much-loved Melbourne based jazz band will delight you with their unique blend of swing, rhythm and blues, Motown and soul.
On Saturday 21 May, let your evening be soundtracked by indie/folk duo, McDermott & North.
Leave the everyday world behind, and step inside The Indirect Object's Neon Photo Booth, where colours burst to life and moments are transformed into captivating works of art. Use touch screens to choose different light and sound sequence to accompany your photo shoot for this fun, accessible and interactive art installation.
While you are enjoying the music, photo booth and PHOTO 2022 installations, pick up some scrumptious free food options available onsite. Look at me like you love me is an official exhibition of PHOTO 2022 International Festival of Photography. Responding to the theme 'Being Human', PHOTO 2022 explores the role photography plays in understanding the contemporary human condition. PHOTO2022 is produced by Photo Australia in collaboration with cultural institutions, museums and galleries, and education, industry and government partners.