Idle Hours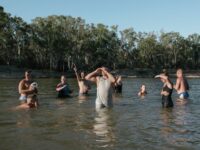 When
29 April 2022 - 22 May 2022
Venue
Spring St, East Melbourne
24 hrs
Theme
Accessibility
Wheelchair access
Price
Free
What will leisure look like in the future? How and where will we gather, and will it be safe to do so? Will our natural environment remain a place of respite and rapture? Will we be able to gather?
Idle Hours records contemporary scenes of outdoor social recreation in the Victorian landscape. Photographed in an uncertain time for society and the climate, post black summer and mid-pandemic, the series seeks to document and perhaps hold tight to essential elements of collective and individual wellbeing: rest, human connection and spending time in nature.
Presented at PHOTO 2022 is a selection of works from the summer chapter of Idle Hours, photographed between 2019 and 2022.
Commissioned by Photo Australia
Supported by Parliament of Victoria and the Restart Investment to Sustain and Expand (RISE) Fund, an Australian Government initiative