In Fourth Person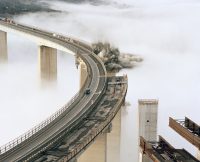 When
19 February 2021 - 16 April 2021
Venue
233 Domain Rd, South Yarra
Mon – Thu, 10am – 1:30pm; 2:30pm – 6pm
Fri 10am – 1:30pm
Accessibility
Wheelchair access, Accessible Toilets, Accessible Parking
Italian artists Filippo Menichetti and Martin Errichiello present a research project about the ancient region of Calabria, a place where power and betrayal combine.
Since the 1960s, during the so-called 'economic miracle', Italy's cultural and political powers instigated an extensive, radical process of transformation of the country's regions and traditions, all in the name of a progress—installing new roads, industries, and a more homogenous national identity. An identity which had to be able to connect the most isolated areas of the country with one another.
Menichetti and Errichiello's exhibition is a multimedia research project about Calabria's transformation over the last 50 years, and the challenges that modernity imposed upon its language and aesthetics. Created along the A3 Salerno-Reggio Calabria highway, Menichetti and Errichiello investigate the iconography and untold truths of a region grappling with its identity.