Amos Gebhardt (AU)
In memory of stars
1 March 2024 - 24 March 2024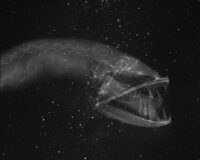 Image: Amos Gebhardt, Dragonfish from the series In memory of stars, 2023.
Restoring the bones of animals to their cosmic origins.
When
1 March 2024 - 24 March 2024
Venue
Southbank Promenade, Southbank
24 hrs
Accessibility
Wheelchair access
Price
Free
Western cosmologists say bones are made from material traces of incredibly rare, calcium-rich supernovas—the explosive death and afterlife of unique stars. Sourced from veterinary and scientific x-ray archives, the bones in these photographs belong to native animals injured or killed on Wadawurrung country and oceans off the coast of Australia. Merging x-ray, satellite and long exposure photography, light in these images demands we think beyond the human.
Whilst visually alluring, the x-rays reflect a deeper story of colonial impact. Closer inspection reveals lethal injuries from lawn mowers, fish hooks, vehicles and firearms. By enhancing the luminosity of these once animated bones with elements such as fire, smoke, stars and cloud, In memory of stars suggests the entangled lines of connection between cosmology, trauma, and sentience. Lit from within, the creatures are offered as omnipresent hauntings, floating between deep time and futurity. A calling to lost futures.
It could be said that history breaks down into images, because they communicate with such immediacy, transcending language and holding stories within them. These photographs are testament to the power of the medium to not only record history, but to shape the future.
Curated by PHOTO Australia Commissioned by PHOTO Australia and the City of Melbourne Dragonfish Image: X-ray courtesy of CSIRO