Tour: Jenny Lewis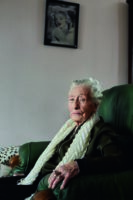 When
1 May 2022
Sunday, 10:30-11:30am
(AEST)
Price
Free, bookings required
Join UK artist Jenny Lewis in conversation with PHOTO 2022 Artistic Director, Elias Restone for a tour of her outdoor work One Hundred Years.
Presented across 100+ metres of Metro Tunnel hoardings, this collection of 101 intimate portraits tells the stories of 101 residents of Hackney, London, at every age from birth to 100. These life-size portraits reveal a neighbourhood up close—the deep sorrows, fierce joys and many contradictions that all our lives contain.
NOTE: This tour takes place outside and is weather dependent. If rain is forecasted, participants will be notified regarding cancellation prior to the event.
Speakers
Jenny Lewis (UK)

Born 1974, Essex, United Kingdom
Lives and works London, United Kingdom

Jenny Lewis's portraits are non-judgemental and unobtrusive offering a rare intimacy into her subjects lives. It is her interest in people and revealing their personal narratives that motivates her work. Much of her personal work centres on her experience of living and working in East London. This work has now been published as three monographs. ONE DAY YOUNG is an empowering series reflecting on the strength and resilience of women just hours after birth, HACKNEY STUDIOS a celebration of authenticity each artist nominating the next, discovering the supportive network of a creative community facing the impossible threat of gentrification. ONE HUNDRED YEARS is a portrait series of 100 portraits every age from 1 to 100 navigating themes of aging, connection and identity.

Elias Redstone (UK)

Elias Redstone is the founder and Artistic Director of PHOTO 2021 International Festival of Photography. With over 15 years experience within the arts sector, Elias has a track record of initiating and delivering innovative cultural programs in collaboration with leading institutions such as Barbican Art Gallery, MoMA and Storefront for Art and Architecture. He was Curator of the Polish Pavilion at the 2010 Venice Biennale and Senior Curator at the Architecture Foundation, London. He has edited publications for Prestel, Sternberg Press and Bedford Press, and served as Contributing Editor for Arena Homme Plus and GQ Style. His book Shooting Space: Architecture in Contemporary Photography is published by Phaidon.