Joanne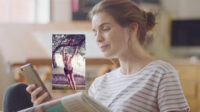 When
18 February 2021 - 7 March 2021
Venue
185 Flinders Ln, Melbourne
Tue – Fri, 12pm – 5pm
Sat, 1pm – 5pm
Accessibility
Please note that gallery 02 is accessed via stairs
Simon Fujiwara's work can be seen as a response to the cultural obsession with self-presentation that new technologies provoke in individuals.
His film Joanne depicts the many faces of his former secondary school teacher, Joanne Salley—winner of the 1998 Miss Northern Ireland beauty pageant, artist, teacher and champion boxer.
After nurturing Fujiwara's creative talents at the prestigious Harrow School for boys, Salley found herself at the centre of a damaging British tabloid scandal where students discovered and circulated topless photographs of her that had been taken privately. Five years on, Fujiwara and Salley produced a short film exploring the scandal, aiming to present a more complex picture of her.
The film follows the pair as they meet with professionals from the worlds of fashion, advertising and PR. Employing various media—from Instagram to high-end fashion photographs—they orchestrate Joanne's new public image.
Commissioned by FVU, The Photographers' Gallery and Ishikawa Foundation
Supported by Arts Council England
Presented by Photo Australia for PHOTO 2021
Supported by British Council