Land of Milk and Honey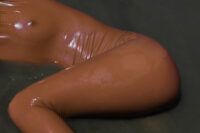 When
27 April 2022 - 4 June 2022
Venue
45 Flinders Ln, Melbourne
Wed – Sat, 11am – 5pm
Theme
Accessibility
Wheelchair access
Price
Free
Land of Milk and Honey depicts an imagined space below the surface of contemporary fantasy, where material ecologies, consumption, destruction, desire, and human and non-human bodies entangle.
Honey Long & Prue Stent construct surreal scenes, where the body is employed as both raw material and apparition, becoming a conduit for subconscious feelings and interpretation. Fetishistic materials—netting, glow-mesh, and latex—as well as more commonplace objects merge with the organic creating a rich network of symbolic association.
Working at sites that have been drastically altered in some way by human activity from salt lakes and pink clay cliffs to the vibrant soils around copper mines and opal shafts–there is a sensuous materialism in these landscapes that is both deeply unsettling and breathtaking.
Alongside their images, blown glass forms slump and ooze against frames, plinths, corners and walls, translating ideas into tangible 3D elements that can be felt within the gallery space.