Daniel Jack Lyons (US)
Like A River
27 January 2024 - 24 March 2024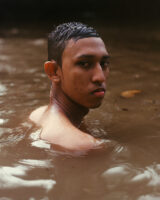 Image: Daniel Jack Lyons, Wendel In Drag, from the series Like A River, 2019. Courtesy the artist.
Trans and queer identities flourish in the Amazon.
When
27 January 2024 - 24 March 2024
Venue
45 Moreland St, Footscray
24 hrs
Accessibility
Wheelchair access
Price
Free
Made in collaboration with Casa do Rio, a community-based organisation that celebrates and supports the cultural lives of teenagers and young people living in the Amazon Rainforest, these portrait photographs by Daniel Jack Lyons visualise and empower this trans and queer community.
Lyons' portraits explore how deep Indigenous traditions and modern identity politics meet in a celebratory and safe space, deep in the lush canopies and vegetation. Using a collaborative and participatory approach, these images celebrate the perennial coming-of-age impulses to express and affirm one's individuality; and how young people remain resilient against a toxic mix of environmental degradation, violence, and discrimination rife in the Amazon.
A Queer PHOTO exhibition curated by Brendan McCleary Presented by Midsumma and PHOTO Australia Supported by Creative Victoria through the Victorian Government's Go West Fund