Jess T. Dugan (US)
Look at me like you love me
29 April 2022 - 22 May 2022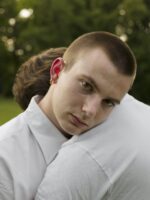 Image: Jess T. Dugan, Oskar and Zach (embrace), 2020. Courtesy the artist.
When
29 April 2022 - 22 May 2022
Accessibility
Wheelchair access
Price
Free
In Look at me like you love me, Jess T.Dugan reflects on desire, intimacy, companionship, and the ways our identities are shaped by these experiences. In this highly personal collection of work, Dugan brings together self-portraits, portraits of individuals and couples, and still lifes, interwoven with diaristic writings reflecting on relationships, solitude, family, loss, healing, and the transformations that define a life.
Dugan has long used photography to understand their own identity and to connect with others on a deeper level. Their process of working slowly and collaboratively discloses moments of heightened psychological intensity in images that transcend the specifics of a particular person or place, engaging with what it means to know oneself alongside and through others.
Look at me like you love me transforms Prahran Square into a public moment of connection, sharing intimacy and love on a community scale.
Curated by Photo Australia
Supported by the City of Stonnington