Making the Visible Invisible
4 May 2022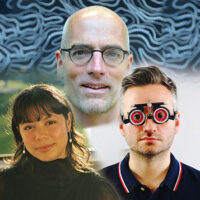 When
4 May 2022
Wednesday, 1-2pm
(AEST)
Machinic vision systems have long carried the potential to expose the unseen—or unnoticed. For Walter Benjamin, film, for example, transformed our experience of the world through the 'dynamite of the tenth of a second'. Automated image systems rehabilitate and reconfigure seeing in a range of ways that promise to augment, surpass and displace human vision, thanks to their ability to capture and process visual data at unprecedented speed, scale and resolution.
This presentation focuses on sensing and imaging systems ranging from mapping, surveillance and AI-derived imagery to biometric data capture. In conversation with Professor of Communications and Media Studies at Monash, Mark Andrejevic, artists Jahkarli Romanis and Mishka Henner discuss how such systems contribute to the prospect of automated forms of governance, and the transformation of physical spaces and territories. Once physical territories can be platformised, they can be rendered malleable and customisable, facilitating new strategies for control and governance.
Online here and Monash Caulfield Big Screen. Closed captions provided.
Presented by Monash University as part of PHOTO 2022
Speakers
Mark Andrejevic (AU)

Mark Andrejevic contributes expertise in the social and cultural implications of data mining and online monitoring. He writes about monitoring and data mining from a socio-cultural perspective, and is the author of three monographs and more than sixty academic articles and book chapters. He was the Chief Investigator for an ARC QEII Fellowship investigating public attitudes toward the collection of personal information online (2010–14). Mark is particularly interested in social forms of sorting and automated decision making associated with the online economy. He believes regulations for controlling commercial and state access to and use of personal information is becoming an increasingly important topic, and that the academy has an important role to play in finding new ways to take advantage of new technologies while preserving a commitment to democratic values and social justice. Mark is Professor, School of Media, Film, and Journalism, Monash University.

Mishka Henner (BE)

Mishka Henner is a visual artist born in Belgium and living in Manchester, UK. His varied practice navigates through the digital terrain to focus on key subjects of cultural and geo-political interest. He produces books, films, photographic and sculptural works that reflect on cultural and industrial infrastructures in a process involving extensive documentary research combined with the meticulous reconstruction of imagery from materials sourced online. Mishka's work has featured in group shows at the Museum of Modern Art and Metropolitan Museum of Art, both New York; Centre Pompidou, Paris and Centre Pompidou Metz; Victoria & Albert Museum, London; Pinakothek der Moderne, Munich; Hasselblad Foundation, Gothenburg; Ullens Center for Contemporary Art, Beijing; FOAM Amsterdam; and Turner Contemporary, Margate. He holds a Masters degree from Goldsmiths College in London and in 2013, was awarded the Infinity Award for Art by the International Center of Photography. He was shortlisted for the Deutsche Börse Photography Prize in the same year and in 2014, was on the shortlist for the Prix Pictet for his large-scale works focusing on landscapes carved by the oil and beef industries of America.

Jahkarli Romanis (AU)

Born 1998, Wadawurrung Country (Geelong), Australia
Lives and works Kulin Land (Melbourne), Australia

Jahkarli Romanis is a Naarm based artist and researcher. Raised on Wadawurrung Country in Torquay, Jahkarli moved to Melbourne to continue her tertiary studies in 2018. After completing an Honours in Photography degree at RMIT in 2020, she has commenced a PhD at Monash in 2021. Her work is inextricably intertwined with her identity as a Pitta Pitta woman and explores the complexities of her lived experience and the continuing negative impacts of colonisation in Australia.

Jahkarli's practice aims to subvert and disrupt colonial ways of thinking and image making, obtaining agency over her representation as a Pitta Pitta woman. She utilises her research and artwork as tools for investigating inherent biases encoded within the technologies we use in our everyday. Namely, biases within photographic practice and contemporary mapping technologies.