29 April 2022 - 10 July 2022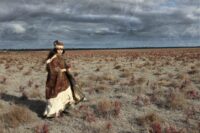 Image: Gail Harradine & Belinda Eckermann, 1. from the series, Mali marrng Mallee Sky, 2021. Courtesy the artists.
When
29 April 2022 - 10 July 2022
Venue
80 Wilson St, Horsham
Daily, 10am – 4pm
Accessibility
Wheelchair access
Price
Free
For some of us, the connection to nature is almost tangible. It influences who we are, how we connect to others and how we connect to ourselves.
The new series Mali marrng Mallee sky by Gail Harradine and Belinda Eckermann gives form to the invisible and unseen personal, familial, community narrative of connection to landscape. Central to this work is a possum skin cloak which carries the stories of the past and present, placed on the shoulders of a young woman as she journeys through the Country of the Wergaia and Wotjobaluk, across the sand hills, grasses and dry lakes beds. Adorned on this cloak are tunnel linings from the earth, created by the Bardi grub, which tell a narrative of time and connection to landscape.
This work merges digital photography, entomological research, electron microscopic imaging, and First Nations cultural practices to explore a shared knowledge and connection to the landscape around Lake Albacutya–Ngalukgutya in Victoria's Mallee region.
The development of this artwork is supported by the Australian Government's Regional Arts Fund, which is provided through Regional Arts Australia, administered by Regional Arts Victoria.
Curator
Alison Eggleton (AU)

Alison Eggleton is curator at Horsham Regional Art Gallery. Over the last 10 years Alison has worked with Australian artists, public galleries and large art institutions to deliver a variety of contemporary art exhibitions and public programs for the gallery. In 2018 she undertook a curatorial residency at Rimbun Dahan Art Residency in Kuala Lumpur, Malaysia.  In-2019 she begun practice led research examining curatorial dialogue and exhibition making as frameworks for understanding approaches to the representation of race, trans-nationality and gender. She is currently undertaking a Master by Research at RMIT in curatorial practice in Australia. Recent exhibitions Alison has curated include Minstrel Kuik: She who has no self  for PHOTO 2020 and Megan Evans :Unstable 2021 both held at Horsham Regional Art Gallery.