Talk: Martin Smith (cancelled)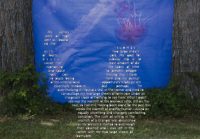 When
21 February 2021
Sunday, 12-12:30pm
(AEST)
Venue
2 Albert St, Richmond

Tue – Sat, 11am – 5pm
Accessibility
Wheelchair access
Unfortunately, due to unforeseen circumstances this event has been cancelled.
Hear from artist Martin Smith as he talks about his PHOTO 2021 exhibition at Sophie Gannon Gallery.
I bet you think this show is about you presents a continuation of two, long term projects that explore the structure, construction and understanding of personal narratives, through the combination of text and image. Since 2004, Smith has been writing an auto-biographical novel where each letter is hand-cut from a photograph producing a memoir that is told visually as well as textually. The released letters, from the photographs, are then resurrected to form anonymous cyanotype portraits that question the influence of language in the construction of self. During his floor talk at the gallery, Martin will discuss his process and this exhibition within the context of this on going project exploring personal narratives.
Part of PHOTO 20201's Launch Weekend.
Free