Marungka Tjalatjunu (Dipped in Black)
3 February 2024 - 26 May 2024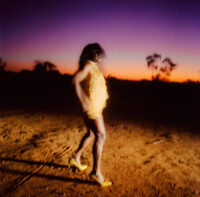 Image: Derik Lynch & Matthew Thorne. Courtesy the artists.
A spiritual return to Country, and to storytelling.
When
3 February 2024 - 26 May 2024
Venue
45 Moreland St, Footscray
Tue – Fri, 9.30am – 5pm
Sat – Sun, 10am – 4pm
Accessibility
Wheelchair access
Price
Free
Marungka tjalatjunu (Dipped in black) is an autobiographical work, following queer Yankunytjatjara man Derik Lynch's road trip back to Country for spiritual healing as memories from his childhood return—memories of his childhood, of growing up in remote Anangu Community, and of learning Tjukurpa.
This photographic series follows his journey from the oppression of white city life in Adelaide, back home to his remote Anangu Community Aputula to perform on sacred Inma ground.
Inma is a traditional form of storytelling using the visual, verbal, and physical—it is how Anangu Tjukurpa (story connected to country / dreaming / myth / lore) have been passed down for over 60,000+ years from generation to generation.
Through Derik's unique and significant journey, the series celebrates a life lived across four cultural worlds, the whitefella world, the blackfella world, the Christian world, and the Queer world. His story sits at a unique intersection space in which Queer identity, performance, modern western culture, and Anangu Culture come together and are transformed into a uniquely powerful healing ritual through his life and story. "You go back to your own Country because that's where you belong. It's where your spirit feels feels strong. Connected."
A Queer PHOTO exhibition curated by Brendan McCleary Presented by Midsumma and PHOTO Australia Supported by Creative Victoria through the Victorian Government's Go West Fund Supported by Fini Frames