Jana Hartmann (DE)
Mastering the Elements
1 March 2024 - 24 March 2024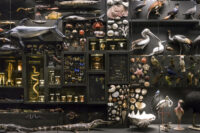 Image: Jana Hartmann, from the series Mastering the Elements.
Where do we draw the line between working with nature and dominating nature?
When
1 March 2024 - 24 March 2024
Venue
1 St Heliers St, Abbotsford
Tue – Fri, 10am – 2pm
Sat – Sun & Public Holidays, 10am – 4pm
Accessibility
Wheelchair access
Price
Free
Mastering the Elements considers the scientific exploration and eventual conquest ofnature – from the beginnings of alchemy to the present day. In their pursuit to turn basemetals into gold, alchemists always strove for a transdisciplinary understanding ofnature's inner workings. But the Age of Enlightenment saw a transition towards naturalsciences that ultimately sought dominance over nature's bounty.
By combining philosophy and photography, these images take a visual journey throughtopics that have captivated the researchers throughout history, from traditional medicine and classical concepts of matter, to biogerontology (the science of ageing) and quantumphysics. Juxtaposing the alchemical approach with modern scientific practice exposesvarious issues associated with today's prevailing understanding of nature, and invites questions about how scientific understandings might advance in the future.
Curated by PHOTO Australia Supported by Fini Frames