Talk: Meet the Maker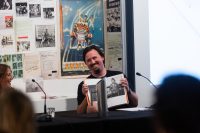 When
21 May 2022 - 22 May 2022
Regions
Venue
37-47 Thistlethwaite St, South Melbourne
Price
Free, no bookings required
Meet the Maker is a series of casual conversations taking place throughout the Photobook weekend, giving audiences an opportunity to meet and network with artists and publishers. Photobook creators will showcase their latest projects, sharing insight and answering audience questions.
Meet the Maker  timetable
Saturday May 21
12.30 – 1pm Morganna Magee
1 – 1.30pm Helen Frajman, M.33
1.30 – 2pm Dan Rule, Perimeter
2 – 2.30pm Grace Wood
3.30 – 4pm Florian Hetz
3.30 – 4pm Alister McKeich
4.30 – 5pm Ana Paula Estrada
4.30 – 5pm Cecilia Sordi Campos
Sunday May 22
12.30 – 1pm Rohan Hutchinson, acb Press
1 – 1.30pm Tom Goldner, Photo Collective
2 – 2.30pm Ioanna Sakellaraki
2.30 – 3pm Madeline Bishop
Speakers
Madeline Bishop (AU)

Born 1991, Canberra, Australia
Lives and works Melbourne, Australia

Madeline Bishop is a photography and video artist based in Melbourne, Australia. Bishop's work is conceptually centred around relational dynamics. Exploiting the persistent tension between distance and closeness in photographs, Bishop's work uses a performative and constructed approach to dissecting the relationship between photography and intimacy. Bishop is a Master of Fine Arts graduate with First Class Honours from the Victorian College of the Arts in Melbourne.

Helen Frajman (AU)

Helen Frajman is an independent editor and curator of photography and since 1994 the Director and Publisher at M.33, a small arts business based in Naarm/Melbourne. M.33 currently represents 8 photographic artists and offers curatorial services as well presenting an ongoing program of publications. M.33 works collaboratively with artists and designers to produce books with a focus on excellent design in the service of thoughtful and thought-provoking content. The chief aim being to produce the books artists want, without the limitations imposed by commercial considerations.

Tom Goldner (AU)

Tom Goldner (b.1984) is an Australian artist, curator and teacher of photography residing on Wurundjeri country in Sherbrooke, Victoria. His career spans art, commercial projects, education, fundraising, gallery management and community engagement initiatives. Goldner's creative practice is positioned within the expanded documentary genre of photography. His projects utilise a multifaceted, collaborative and experimental approach to storytelling which negotiate the intersections between social and environmental constructs. His projects have been exhibited regularly in Australia, published internationally and held in both private and public collections.

Florian Hetz (DE)

Born 1985, Frankfurt, Germany
Lives and works Berlin, Germany

After a severe encephalitis put an abrupt end to his professional life as producer for theatre, Florian Hetz started to keep a visual diary to counteract the memory loss as an after-effect of the brain inflammation. He began documenting his daily life during the recovery. Gradually the process of taking diary photos shifted to creating photos that were based on his memories, or what he had to trust his memory was.

Much of the Berlin photographer's work from that time zooms in on those memories by using the close up as a stylistic medium. By closing in on those seemingly normal every day moments and bodies, he elevates them and translates them into his very own hyper focused, visceral language.

During an artist residency at the Tom of Finland Foundation in Los Angeles Hetz started to introduce landscapes and still-lifes into his work and began to engage with natural light. His second book "ZWEI" combines the clean, factual studio work from Berlin with the warm plein-air work from Los Angeles, and the juxtapositions create a dialogue between them.

And while his work still dissects the possibilities of the human body, he came full circle in 2020, when he started to concentrate again more on the diary photos. His new Book "AIKO" will be released at the end of 2021 and will introduce this body of work for the first time to the public.

Haut by Florian Hetz is supported by the Goethe-Institut

Rohan Hutchinson (AU)

Rohan is a Melbourne based Photographer and Designer whose work questions the transformation of space and our relationship with the environment.

He has worked and been an educator within the global art book market for over 10 years and his books are held in prominent collections including the V&A Museum National Art Library, New York Public Library, Printed Matter Inc, National Library of Australia, NGV Research Library, the National Art Gallery of Canada Library.

Rohan's been active in the art book fair community since 2015, fairs he has exhibited at include Paris Photo LA, Off-print Paris, Off-print London, Unseen Amsterdam, New York, Tokyo, Beijing, Shanghai, UAE, Melbourne, in addition to this his work has been shortlisted for the NGV Prize for Art and Design Publishing 2019, Libris Art-book of the year 2016, and Australian photo-book of the year 2016.

On the educational-based side of his practice, he is currently enrolled in the Masters of Communication Design course at RMIT where his focus is Publication design and works as a Mentor for the Master so Photography Program at PSC.

In 2020 he founded acb press, a multidisciplinary publishing practice centered around the Photo-book.

Morganna Magee (AU)

Morganna Magee is a based in Naarm ( Melbourne, Australia) living and working on the land of the Wurundjeri, Bunurong and Boon Wurrung people, the foothills of the Dandenong ranges. Her practice sits between storytelling and expanded documentary, creating work that pulls from an emotional response to the world whilst still being based in the documentary tradition. Her two-decade-long practice as a photographer encompasses commercial, editorial, and fine art. Her work has been awarded and exhibited both nationally and internationally recognised by institutions such as The National Portrait gallery Australia and Miami Art week.. She is a founding member of Lumina Collective an Australian collective of award-winning women and non-binary photographic artists breaking ground in visual storytelling and dissemination. She regularly is commissioned for editorial and large-scale community arts projects. Her images have appeared in The New York Times, The Guardian, The Age, Art and Australia magazine amongst others She has photographed major commissions for Wintringham Specialist aged care, The shire of Murrundindi, Victoria Police, the Mission for Seafarers, Ronald McDonald House and The Immerse Arts Festival among others. Morganna is the Major Discipline Co-ordinator for Photo Media, Swinburne University of Technology.

Dan Rule (AU)

Dan Rule is a publisher, writer and editor from Melbourne, Australia. He is the co-director of Perimeter Books, Perimeter Distribution and Perimeter Editions, for which he has published, edited and written for upward of 50 books on contemporary photographers and artists from around the world. He has published more than 3000 articles, reviews and interviews on art, photography, design and culture more widely for international publications and institutions.

Ioanna Sakellaraki (GR)

Born 1989, Athens, Greece
Lives and works Melbourne, Australia

Ioanna Sakellaraki's work investigates the relationship between collective cultural memory and fiction. Drawing emphasis on the photographic object, process and encounter, she explores the boundaries of a primitive, yet futuristic vision of places and people. She was recently awarded a Doctoral Scholarship for undertaking her PhD in Art after graduating from an MA Photography from the Royal College of Art. She is the recipient of The Royal Photographic Society Bursary Award 2018 and was named Student Photographer of the Year by Sony World Photography Awards 2020. Her first monograph 'The Truth is in the Soil' is published by GOST Books.

Grace Wood (AU)

Grace Wood is an artist from Narrm, Australia. In 2014, she graduated from the Victorian College of the Arts with a Bachelor of Fine Art (Honours). Grace utilises her ever-expanding collection of images to create collage-based installations that dissect eccentricities of the internet archive, notions of elitist art history, and contemporary photography. Her work is concerned with the concept of the archive, and digital technology's capacity to generate, alter and namelessly disperse images.

Grace has exhibited extensively in Australia; some recent exhibitions include Thirsty, LON Gallery, VIC, 2022; Garden Variety, PHOTO 2021 at Royal Botanic Gardens, 2021; The Image, Blindside, 2021; Ground Control, Richmond Town Hall Gallery, VIC, 2021; There are no new waves, only ocean, LON Gallery, VIC, 2020; Ersatz, Cool Change Contemporary, WA, 2019. Grace completed a public commission for City of Stonnington and Mars Gallery (VIC) in 2020 and undertook the AARK Archipelago Art Residency, Finland in 2019. Grace is represented by LON Gallery, VIC.