Eve Tagny (CA)
Mnemonic Gestures
1 March 2024 - 24 March 2024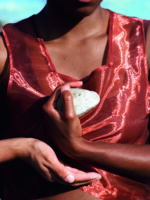 Image: Eve Tagny, from the series Mnemonic Gestures.
Between race, ritual and nature.
When
1 March 2024 - 24 March 2024
Venue
35 Johnston St, Collingwood
24 hrs
Accessibility
Wheelchair access
Price
Free
In Mnemonic Gestures, various racialized people enact ritualised gestures in conjunction with nature's materials and cycles. These actions and movements are performed with the aim of developing an embodied language that tends to collective and personal grief and realigns disrupted cycles onto nature's seasonal rhythm.
Eve Tagny is a Tiohtià:ke/Montreal-based artist. Her practice considers gardens and disrupted landscapes as adaptable sites of personal and communal memory. The spaces that she works with are inherently inscribed with dynamics of power, colonial histories and their legacies. As a performer and image-maker, she explores spiritual and embodied expressions of grief and resiliency, in correlation with nature's rhythms, cycles and materiality.
Curated by PHOTO Australia Presented in partnership with Scotiabank CONTACT Photography Festival, Toronto