Nan Goldin (US)
My Parents on their Fiftieth Wedding Anniversary, 1989
1 March 2024 - 24 March 2024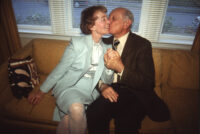 Image: Nan Goldin, My Parents on their Fiftieth Wedding Anniversary, 1989. Courtesy the artist and Gagosian Gallery, New York City © Nan Goldin.
Celebrating an icon of photography.
When
1 March 2024 - 24 March 2024
Venue
Flinders St Entrance, Federation Square, Melbourne
24 hrs
Accessibility
Wheelchair access
Price
Free
Among the most influential artists of today, Nan Goldin is renowned for her intimate capturing of life around her, and transforming the role of photography in contemporary art. Emerging from the artist's own life and relationships, her photographs and moving-image works are both deeply personal and profoundly influential, addressing essential themes of identity, love, sexuality and mortality. Her subjects are her friends, lovers, family and intimate surroundings.
Presented across the façade of Federation Square Atrium, My Parents on their Fiftieth Wedding Anniversary continues Goldin's career-long theme of the human need for companionship and, in this instance, looks to the experience of her parents later in life. For the artist, relationships are not only essential to emotional sustenance but the foundation of her artistic practice. As she wrote: "These pictures come out of relationships, not observation."
Goldin takes photographs to connect, to keep the people she loves in her memory. She is committed to the idea that photography can faithfully record a time and place, and do so in a way that has real social purpose.
Curated by PHOTO Australia Presented by Fed Square