Laresa Kosloff (AU)
New Futures™
23 February 2024 - 28 April 2024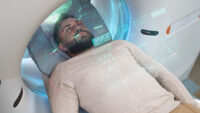 Image: Laresa Kosloff, New Futures™, 2021 (film still). 4K video (made from commercial stock footage) 4:38 duration. Voice actor: Francis Greenslade, Sound design: Final Sound, Music: Secession Studios, Shakespeare from Richard 11 (Act 5, Scene 5).
Enter the dystopian world of corporate videos.
When
23 February 2024 - 28 April 2024
Venues
Botanical Gardens, Bridge Street, Benalla
Daily, 10am - 4.30pm
Closed Tuesdays
Benalla Botanical Gardens, Bridge St, Benalla
Wed – Mon, 10am – 4.30pm
Accessibility
Wheelchair access
Price
Free
New Futures™ brings together two darkly humorous video artworks assembled and edited entirely from corporate video stock footage sourced on the internet, each exploring themes of duplicity, neoliberalism and the climate crisis.
In Radical Acts, a group of climate scientists clandestinely distribute a pathogen that renders corporate workers less productive and more accepting of motivations beyond profit. And in New Futures™, a biohacking initiative wages war between the industrious and hyper-charismatic 'synthetic' personalities and disgruntled hackers, nostalgic for an apathetic past.
Presented in partnership with PHOTO Australia Supported by the Australian Government through the Australia Council, its arts funding and advisory body