Chloé Milos Azzopardi (FR)
Non Technological Devices
1 March 2024 - 24 March 2024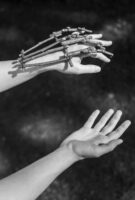 Image: Chloé Milos Azzopardi, from the series Non Technological Devices, 2023.
Between technology and the natural world.
When
1 March 2024 - 24 March 2024
Venue
25 Collins St, Melbourne
24 hrs
Accessibility
Wheelchair access
Price
Free
Using fiction and play, Chloé Milos Azzopardi seeks ways of imagining augmented lives, creating organic cyborgs whose aim would be to inscribe the body differently in the environment. How can we show an alternative future in the face of our dreams of a hyper-artificialised and technologised world?
Non Technological Devices are composite tools made from gleaned natural elements, assembled to mimic the technological devices that populate our daily lives. Somewhere between rudimentary objects and science-fiction creations, these objects create a fictional universe that functions as a mirror held up to our fantasies of the future.
Curated by PHOTO Australia Presented in partnership with Sofitel Melbourne on Collins Supported by Fini Frames