Masterclass: On Industry, Philosophy and Techniques
8 May 2022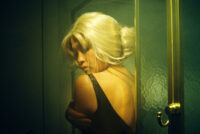 Image: James J. Robinson, On Golden Days, 2022. Courtesy the artist.
When
8 May 2022
Sunday, 12-3pm
(AEST)
Venue
43 – 45 Edward St, Brunswick
Mon – Fri, 11am – 4pm
Sat – Sun, 11am – 3pm
Accessibility
Wheelchair access
AUSLAN interpreter provided free on request when booking.
Price
Donation to Pay The Rent
Aimed at students of photography and visual arts, James J. Robinson will be leading an in-depth class and discussion, covering topics like the international photography industry, the philosophy and responsibilities of photo-taking, and developing a personal style.
How do you navigate the tricky line between photography as your income and your art? What are ways we can deconstruct problematic structures in the industry? James will offer some insights, take questions, and invite some special guests on stage to offer some additional perspectives.
This talk is in conjunction with the solo exhibition On Golden Days by James J. Robinson.
Artist
James J. Robinson (AU/PH)

Born 1995, Melbourne, Australia
Lives and works Los Angeles, U.S.

James J. Robinson is a Filipino/Australian artist based in Los Angeles. With a background in cinema and film criticism, his work pays particular attention to character, narrative and lighting. His work focusses on the power of representation, using visibility to break down systems of oppression. This style of poetic realism derives from his desire to deconstruct and heal oppressive systems within the industry, casting everyone from his family to academics and scientists he admires. His work covers photography, filmmaking, writing and lighting design, having worked with and been published by The New York Times, Vogue Australia and The Guardian.