One Hundred Years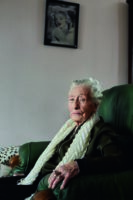 When
29 April 2022 - 31 December 2022
Theme
Accessibility
Wheelchair access
Price
Free
101 people, 100 years, one community.
Presented across 100+ metres of Metro Tunnel hoardings, this collection of 101 intimate portraits tells the stories of 101 residents of Hackney, London, at every age from birth to 100. These life-size portraits reveal a neighbourhood up close—the deep sorrows, fierce joys and many contradictions that all our lives contain.
One Hundred Years is an insight into one community in East London, through which the viewer finds connections with their own community—wherever in the world it may be.
This will be the first time that these works will be presented at this scale, providing an opportunity for audiences to explore each portrait in intimate detail.
Jenny Lewis is an award-winning portrait photographer. She has lived in Hackney for 25 years and her work focuses on visual storytelling within her community.
Curated by Photo Australia
Presented in partnership with Metro Tunnel Creative Program
Also presented in partnership with Metro Tunnel Creative Program, 101 Victorians is a complementary community participation project in the style of Jenny Lewis' One Hundred Years. View at 101victorians.com.au