Only the future revisits the past
1 March 2024 - 12 May 2024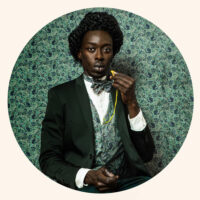 Image: Omar Victor Diop, Frederick Douglass from the series Diaspora, 2015. Courtesy the artist and Magnin-A, Paris.
Artists look towards the past to speculate future possibilities and consider change.
When
1 March 2024 - 12 May 2024
Venue
404 George St, Fitzroy
Wed – Sun, 11am – 5pm
Closed on Public Holidays
Accessibility
Wheelchair access
Price
Free
It is well established that photography and film record the past, but these types of documents can also transform and dictate the future.
Only the future revisits the past brings together artists Marta Bogdańska, Omar Victor Diop, Nikki Lam, Tace Stevens and Stephanie Syjuco whose works look towards the past—via archives, institutional and museum collections, family histories, and historic depictions—to speculate future states and possibilities. Through deep engagement and considered intervention, these artists disrupt received structures and narratives. In doing so, they explore ideas of agency and the limitations of representation.
This exhibition questions the formulation of accepted knowledge and accounts, and asks: what role does memory and history play in forming our futures?
Curated by Catlin Langford
Curators
Catlin Langford

Catlin Langford is Curator at the Centre for Contemporary Photography, where she recently curated exhibitions of work by Pixy Liao, Odette England, Miriam Charlie, Ying Ang and Lisa Sorgini. She has previously held roles at the V&A, Royal College of Art and Royal Collection Trust, and has produced exhibitions and content for Thames & Hudson, Curatorial, Photo Lux festival, Photo Oxford, among others.