Opening: Be Here Now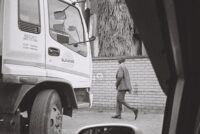 When
1 May 2022
Sunday, 3-5pm
(AEST)
Venue
7 James St, Windsor

Tue – Sat, 10am – 5pm
Price
Free, bookings required
Join us to celebrate the opening of Be Here Now and share a drink with the artists. The exhibition will be officially opened by Elias Redstone, Artistic Director of PHOTO 2022, with comments from exhibition curator Atong Atem.
This exhibition brings together a group of contemporary artists working with photography, film and new media to examine the past and its effect on the futures we build and create.
Through references to history, culture and group identities, each artist comments on the world as they see it, allowing us to imagine alternative futures.
What does it mean to talk about history from an intimate and personal perspective? From confronting depictions of African American women referenced in Yétúndé Olagbaju's self-portraits to Tig Terera's intimate travel portraits, the artists in this exhibition speak to their inescapable link to history, exploring religious identity through virtual reality, familial nostalgia in film photos, and the varied ways we exist here and now as products of what came before.