Opening reception: Afterlife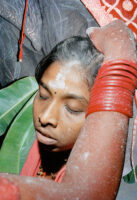 When
4 May 2022
Wednesday, 5-7pm
(AEST)
Venue
25 Collins St, Melbourne
Daily, 8am – 6pm
No public access: 15—17 June
Price
Free, please RSVP to: gap.exhibitions@gmail.com
Please join us for the opening reception of Afterlife by Vasantha Yogananthan.
Afterlife is the sixth instalment in Vasantha Yogananthan's seven part series A Myth of Two Souls, a visual exploration of the Ramayana, an ancient epic dating to the third century BC which remains pervasive in everyday Indian life.
This exclusive Australian exhibition mixes daily life with staged pictures, including colour photography, traditionally hand-painted photos, as well as mixed media and video.
Sofi's Lounge, Sofitel Melbourne On Collins