Clifford Prince King (US)
Orange Grove
3 February 2024 - 26 May 2024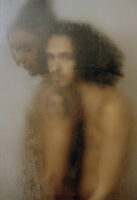 Image: Clifford Prince King, Untitled, (m _ q), 2017. Courtesy the artist, Gordon Robichaux, NY and STARS, LA.
Tender portraits of queer Black intimacy.
When
3 February 2024 - 26 May 2024
Venue
45 Moreland St, Footscray
Tue – Fri, 9.30am – 5pm
Sat – Sun, 10am – 4pm
Accessibility
Wheelchair access
Price
Free
Self-taught US artist Clifford Prince King documents his intimate relationships in traditional, everyday settings that speak to his experiences as a queer Black man. Orange Grove is a series of dark and handsome images, filled with King's intricate portraits that flow like tapestries. King makes the everyday transparent while embracing possible futures, through a sense of fantasy and daydream. Woven into the narrative is King's 2018 HIV diagnosis, and the subsequent shifts in the body that illness brings. As King describes, "The work I make is the work I wish I had seen growing up, to make my process and my understanding easier. That links back to the faces being hidden in some images, I think it allows for people to put themselves in that photograph."
Through a warm lens, King tenderly captures the beauty of companionship and self-realisation. These images offer a sense of community – as we witness lovers and friends in the ether of vulnerability, King's portraits remind the viewer that sex and intimacy are intrinsically a collaboration.
Please note that this exhibition contains nudity, A Queer PHOTO exhibition curated by Brendan McCleary Supported by Creative Victoria through the Victorian Government's Go West Fund Supported by Fini Frames