Panel Discussion: Making Photobooks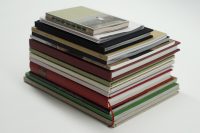 When
27 February 2021
Saturday, 11:30am-12:45pm
(AEST)
Venue
404 George St, Fitzroy
Wed – Sun, 11am – 5pm
Accessibility
Wheelchair access, Auslan interpretor
If you require an Auslan interpreter please make your booking 3 business days in advance.
In this panel conversation to launch the PHOTO 2021 Photobook Weekend, accomplished makers, specialist creators and prominent stockists discuss the finer details of making photobooks. From choosing the right typography and paper, image sequencing, to book fairs and buying, join us for an insightful, practical discussion and Q&A.
Chaired by Heidi Romano, the panel includes Stuart Geddes, Rohan Hutchison, Libby Jeffery and Molly Monro.
Free, bookings required. This event has sold out. Please click the link to be added to the waiting list
Part of PHOTO 2021's Photobook Weekend
Speakers
Stuart Geddes (AU)

Stuart is a graphic designer, printer and occasional publisher, mostly of books. He is also a lecturer, industry fellow, researcher and PhD candidate at RMIT University, where his research interests converge around the form of the book, through collaboration, emerging histories, and material practices. Geddes is one of the Australian members of Alliance Graphique Internationale. In recent years Geddes's work has earned numerous awards in Australia and internationally, including the Cornish Family Prize for Art and Design Publishing, the ABDA Book of the Year, DINZ Gold Awards, a D&AD Pencil, AIGA Design Observer's 50 Books and an AGDA Pinnacle Award. Stuart's practice was the subject of a Reputations profile in Eye Magazine, the international journal of graphic design, and his work has been collected and exhibited internationally, including at the Design Museum London, and in the Walker Art Center's Graphic Design: Now in Production. In 2020, with Trent Walter of Negative Press, Geddes was an invited artist of the 22nd Biennale of Sydney.

Rohan Hutchinson (AU)

Rohan is a Melbourne based Photographer and Designer whose work questions the transformation of space and our relationship with the environment.

He has worked and been an educator within the global art book market for over 10 years and his books are held in prominent collections including the V&A Museum National Art Library, New York Public Library, Printed Matter Inc, National Library of Australia, NGV Research Library, the National Art Gallery of Canada Library.

Rohan's been active in the art book fair community since 2015, fairs he has exhibited at include Paris Photo LA, Off-print Paris, Off-print London, Unseen Amsterdam, New York, Tokyo, Beijing, Shanghai, UAE, Melbourne, in addition to this his work has been shortlisted for the NGV Prize for Art and Design Publishing 2019, Libris Art-book of the year 2016, and Australian photo-book of the year 2016.

On the educational-based side of his practice, he is currently enrolled in the Masters of Communication Design course at RMIT where his focus is Publication design and works as a Mentor for the Master so Photography Program at PSC.

In 2020 he founded acb press, a multidisciplinary publishing practice centered around the Photo-book.

Libby Jeffery (AU)

Libby Jeffery has worked in media and publishing for over 20 years. Following stints as a copywriter, communications coordinator, and digital producer, she co-founded Australia's first print-on-demand photo book company, Momento Pro. Since 2004 she has helped establish the Chippendale Creative Precinct, the Australia & New Zealand Photobook Awards, and the first photo book festivals in the region – Photobook Melbourne and Photobook New Zealand. As Marketing Manager, she curates content and events to enable photographers and artists to successfully self publish photobooks, and is a passionate advocate for promoting antipodean photo books to the local and international community.

Molly Monro (AU)

Molly Monro has been a book buyer with a particular focus on the arts since the mid-1990s. She has been the buyer at Metropolis Bookshop since 2001.  A self-described old school bookseller raised in the trade, she has borne witness to a lot of changes in both publishing and the book industry as a whole.

Heidi Romano (GER)

Heidi Romano is an independent curator and art director working in the field of photography and design. Inspired by all forms of publishing, she experiments with new ideas from printed matter to exhibition design, conferences and digital media. She was founder and festival director of Photobook Melbourne, and curator of Unless You Will, one of the first online photography magazines. Unless You Will morphed into a one-off weekend of photography conversations in 2017, and most recently into a creative studio specialising in design and communications for the photography industry. Heidi is regularly a judge and reviewer for photography awards and grants worldwide.