César Dezfuli (ES)
Passengers
1 March 2024 - 24 March 2024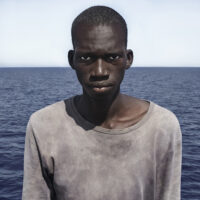 Image: César Dezfuli, Amadou Sumaila, from the series Passengers, 2016 – ongoing.
Restoring humanity to refugees.
When
1 March 2024 - 24 March 2024
Venue
Cnr Otter St & Smith St, Collingwood
24 hrs
Accessibility
Wheelchair access
Price
Free
On 1 August 2016, 118 migrants were rescued on the Mediterranean Sea. The packed boat was attempting the crossing from Libya to Italy. This was, of course, only a fraction of a much larger wave of human movement taking place. That year alone, over 300,000 refugees and migrants arrived in Europe, with 3,211 dying or going missing before completing their journey. Behind these numbers are the stories of individuals.
Passengers is a photographic project about the people aboard that boat in 2016, but rather than capturing a mass of indistinct faces on a crowded boat, César Dezfuli has made a portrait of each person aboard, and continued to connect with as many as possible over subsequent years, photographing the lives that they established after their journey by sea.
In a long-form approach, Dezfuli seeks to restore a sense of agency to these people and dignify their stories with the humanity of individuals.
Curated by PHOTO Australia