Periphériques/Shoplifters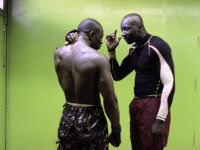 When
29 April 2022 - 22 May 2022
Venue
Owen Dixon Chambers East
205 William St, Melbourne
Mon – Fri, 8.30am – 5.30pm
Theme
Accessibility
Wheelchair access
Price
Free
In this exhibition, two series from Deutsche Börse Prize winner Mohamed Bourouissa, each exploring society's overlooked fringes, sit within the Victorian Bar's collection of portraits of legal dignitaries.
For Périphérique, Bourouissa's breakthrough series of photographs, the artist appropriates codes of art historical painting, staging scenes with friends and acquaintances in the banlieue, the working-class suburbs encircling Paris (and site of riots in 2005). Confrontations, gatherings, looks, and frozen gestures all suggest a dramatic tension. Invoking French Romantic painter Delacroix and contemporary artists such as Jeff Wall, Bourouissa gives a place in French history to marginalised communities.
Shoplifters is a series of photographs of photographs. In a supermarket in Brooklyn, Bourouissa was drawn to a Polaroid display behind the counter of shoplifters. Each was photographed holding the item they had been stealing—everyday items like fruit, eggs, cleaning products. Bourouissa has rephotographed and recontextualised these images, revealing them as documents of people caught in poverty.
Curated by Photo Australia
Supported by JCP Studios and Fini Frames