Portrait of Humanity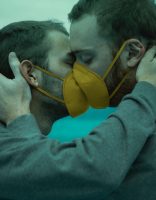 When
18 February 2021 - 7 March 2021
In partnership with 1854—publishers of the British Journal of Photography—Portrait of Humanity is showing in Australia for the first time, at PHOTO 2021.
Celebrating both individuality and unity, Portrait of Humanity 2021 invites photographers of all levels of experience to show how people can use photography to overcome our differences and unite as a global community. In the wake of 2020, Portrait of Humanity has asked entrants to shine a light on the spirit, strength and togetherness that has sustained our species throughout a dark time in history.
PHOTO 2021's presentation of the 30 winning images and three winning bodies of work will be displayed as a free outdoor exhibition.
Locations:
COLLINGWOOD
Langridge Street, corner of Smith Street
295 Smith Street
11 – 13 Johnston Street
83 Johnston Street
Wellington Street, corner of Perry Street
FITZROY
16 Johnston Street
Victoria Street, corner of Brunswick Street
CARLTON
Argyle Place South